Description
AJ-P08F Meiji Automatic spray gun
Adoption of new type of nozzle and cap 
With taper structure of the nozzle tip, AJ-P enables high atomization and low spattering, with a small spraying volume, resulting in maintenance and improvement of economical effect, environmental conservation and continuous painting performance.
Remote operation
Atomization air and pattern air are supplied via separate circuits.  This structure enables remote operation of individual circuits.
Light-weight and compact
Even when the joint box (including the joint) is attached,the body is light-weight and  compact. This structure enables transportable load reduction, quick operations,  flexible access and short-distance spraying, and results in an enlarged teaching range.
  Maintenance efficiency improvement and attaching/detaching time reduction
  The gun body and the joint box can be attached and detached with a single bolt,   and the joint and hose need not be removed from the gun body, thus enabling easy   positioning when the joint box is re-mounted after maintenance. No special tools required.
  HIGH TRANSFER EFFICIENCY FOR FLAT SURFACE FINISH
  We add new air cap F (for flat surface finish at high transfer efficiency) on our joint type automatic spray gun line-up.  In use of conventional pressure feed automatic spray gun at low spraying volume,  over spraying and irregular surface have been problems to be solved.  Air cap, F-type is newly designed to lessen these problems with innovative technology especially for use at low spraying pressure.  It, at the same time, maintains high performance in atomization, transfer efficiency  and flat surface finish.  These features are suitable for smaller workpiece and spindle spray coating.  Air horn hole releases pattern air at the position closer to paint outlet and atomizing  air hole with low angle in order to reduce paint adhesion on the surface of air cap.
Emerald Coatings is your Canadian dealer for Meiji spray guns focusing on robotic and automation spray guns in Canada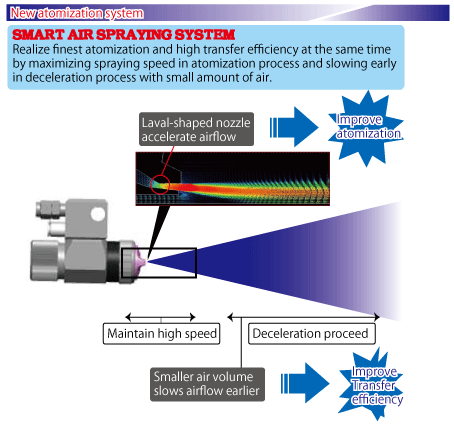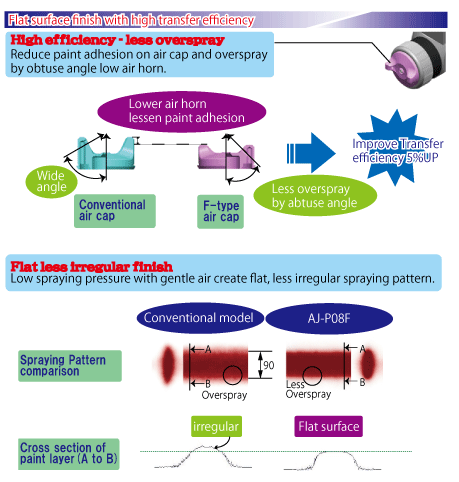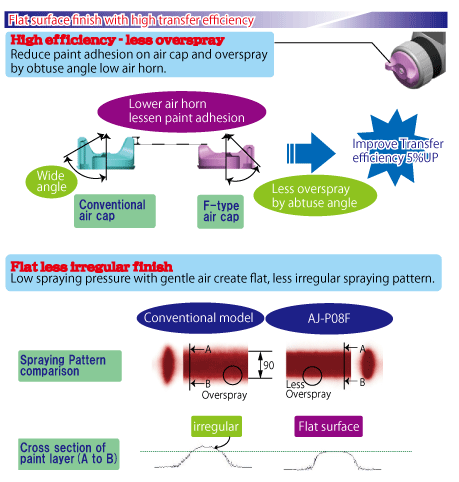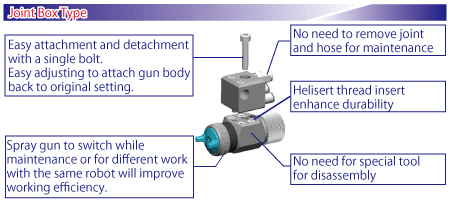 Additional information
| | |
| --- | --- |
| Weight | 4 lbs |
| Dimensions | 2.37 × 2.37 × 2.37 in |
| Nozzle-set | 1.3 mm, 1.5mm, 1.8mm |