$25.99
Discount Pricing
Order from 1 or more: $25.99
Order from 2 or more: $22.35
Order from 5 or more: $20.79
Out of stock
Description
Purple Shift is a Purple Chameleon colour that has metallics that take oven when moved around in the light.  Purple Is the main colour seen, but when the sun hits it it has a colour shift of pearls from  of Purple to to Orange to Brown.  These colours are not for everyone, we suggest buying the Chameleon swatch set before buying this product so you know what these colours look like in person.
https://emeraldcoatings.com/product/chameleon-swatch-set/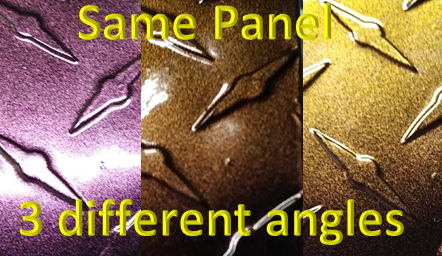 CHEMISTRY
PURPLE SHIFT
CHEMISTRY
Polyester TGIC Metallic
REGULAR CURE TEMP
15 Minutes@ 375°F
MIN TEMP
NA
MAX TEMP
NA
RECOMMENDED THICKNESS
1.5 TO 3.5 MILS
PENCIL HARDNESS
2H
SPECIFIC GRAVITY
1.26 +/- .05
THEORETICAL COVERAGE
56 sq/ft @ 2.0 mils
PENCIL HARDNESS
2H minimum
GLOSS LEVEL (60°)
85-95+
SALT SPRAY
1,000 hours
BALL IMPACT
80 in/lb
SDS Sheet info #
#9 – Polyester TGIC Metallic
SDS link
https://emeraldcoatings.com/sds-sheets/
*Clear Coat Recommended, will Improved Mar Resistance and will improve the over all look and depth of the metallic finish.  *When coating in 2-3 stages, always particularly cure the base coat around 50-75% of the recommended cure schedule to allow the top coat to properly cross-link with the base coat. This method of curing will result in the best possible bond between coats. Over curing the base coat can cause possible delamination between coatings.
Additional information
| | |
| --- | --- |
| Weight | 1 lbs |
| Dimensions | 6 × 6 × 6 in |
| Purchase options | Powder, Small Sample Panel, Large Sample Panel |