Description
PEEK Polish sold in Canada by Emearld Coatings
PEEK® Cleans, Polishes & Protects
Aluminum, Acrylic, Arborite, Brass, Bronze, Beryllium, Chrome, Copper, Ceramic, Eisenglas, Fiberglass, Formica, Factory Gun Bluing, Gold, Glass, Linoleum, Magnesium, Marble, Nickel, Painted Surfaces, Pewter, Plastics, Perspex, Platinum, Silver, Sterling, Stainless Steel, and Tin.
PEEK® Safely Removes Acid Rain, Corrosion, Chalking, Dyes, Finger Marks, Flies, Grease, Graffiti, Heat Discoloration, Leaf Marks, Lime Deposit, Oxidation, Oil, Permanent marker, Powder Residue, Rust, Salt Water Stains, Tar, Tarnish, Tree Sap, Water Stains, and Wax Buildup. Non-Abrasive · Acid-Free · Anti-Oxidant · Safe on Skin             100% North American · Exceptional Quality
Tips:
Apply Peek® sparingly. Do not let dry. Rub briskly on surface to be cleaned, using a dry or damp cloth.
On large surface areas, Peek® may also be applied using a low-speed buffer (under 1000RPM).
On intricate surfaces, Peek® may be applied using an old toothbrush surrounded by your polishing cloth.
On minor rust or stubborn deposits, Peek® may be applied with a nylon scouring pad or #0000 brnze/stl wool.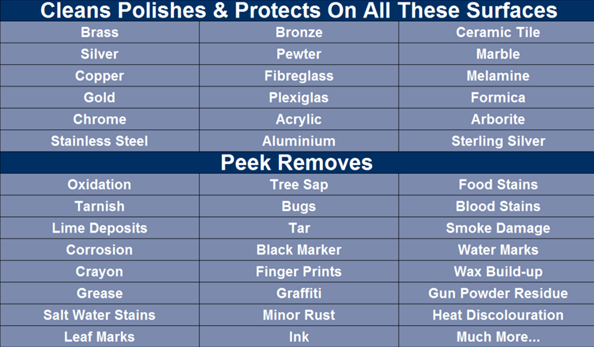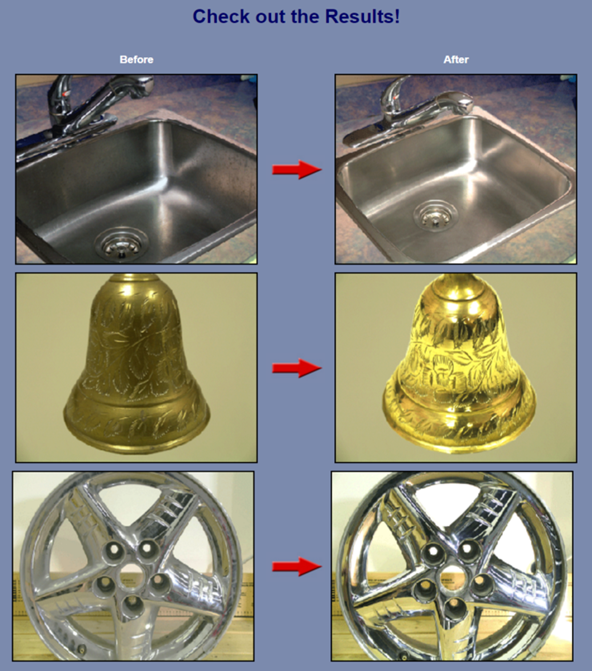 Additional information
| | |
| --- | --- |
| Weight | .500 lbs |
| Dimensions | 1.6 × 1.6 × 8 in |