$30.28
Discount Pricing
Order from 1 or more: $30.28/POUND
Order from 2 or more: $26.04/POUND
Order from 5 or more: $24.23/POUND
Order from 10 or more: $22.41/POUND
Order from 15 or more: $20.59/POUND
Description
PC1027
BONDED BLACK CHROME
CHEMISTRY
POLYURETHANE GROUP B
REGULAR CURE TEMP
375F/15 min
MIN TEMP
NA
MAX TEMP
NA
RECOMMENDED THICKNESS
1.8-2.2 mils
PENCIL HARDNESS
5-H
SPECIFIC GRAVITY
1.19 +/-0.05 g/cm³
THEORETICAL COVERAGE
161.59 sq.ft/lb/mil
PENCIL HARDNESS
2H minimum
GLOSS LEVEL (60°)
125+
SALT SPRAY
1000
BALL IMPACT
80 in/lb
SDS Sheet info #
#5B – Polyurethanes (Group B)
SDS link
https://emeraldcoatings.com/sds-sheets/
*Clear Coat Needed, will Improved Mar Resistance and will improve the over all look and depth of the metallic finish.  Chrome powder will tarnish and scratch easy if not clear coated.   Cure the base coat around 90% of the recommended cure schedule to allow the top coat to properly cross-link with the base coat.   Chrome powder can also be top coated with candy colours.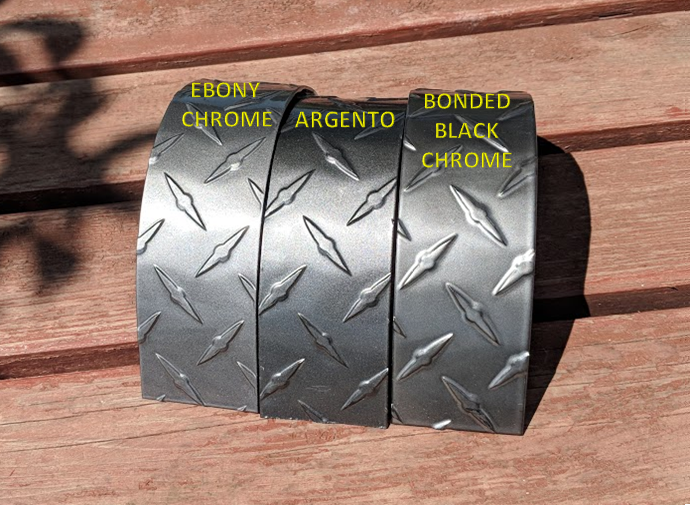 Additional information
| | |
| --- | --- |
| Weight | 1 lbs |
| Dimensions | 2.37 × 2.37 × 2.37 in |